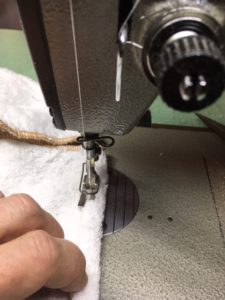 I specialize all things textile. If you are looking for clothing alterations or other sewing repairs you have come to the right place. If you are looking for something brand new you are in the right place. Whether it is heavy duty sewing or a frilly dress, I have the skills and equipment to do you what you need.
I learned sewing way back in first grade. Since then I have made many quilts, costumed for the NY Renaissance Fair as well as off broadway in NYC. I've had a catalogue business out of my apartment selling my own designs for clothes and bags. I've taken in alterations and sewing jobs, made clothes for family and friends, sold wholesale, fixed sails, tents and sleeping bags. I have degree in pattern making from Fashion Institute of Technology in NYC.
The garment industry is a place where labor is often exploited. The drive for low prices is relentless. Since the industrial revolution seamstresses have been taken advantage of. I wouldn't wish that on anyone, either you the customer or me the seamstress. So I thread my needle as I make my way through the challenges of offering low pricing while still being fair to me.
When you come to my shop you will see I spend more time on the process than on making my shop look shiny and spiffy. I go for function over form
Generally I sew with natural fibers. hemp, cotton, wool and linen are my favorites. The environment is important to me and I strive to keep my home, this world clean. I recently started dyeing with plants. Marigolds, elm bark and rusty nails were the start. You will see more of that in the future.
Use the menu to look deeper into the site and find what you are looking for.