Great little harp bag! Sarah was amazing! She was so helpful and responded to my questions fast. She got this bag to me extremely quickly as I needed it by a certain date. It fits the harp nice and snug and has good padding to protect it. Love the pocket on the side too. Definitely recommend!
Gig Bags for Backyard Music
Dave at Backyard Music started me off making instrument cases. I made patterns for his harp, dulcimer and banjo. I sell these on my Etsy site.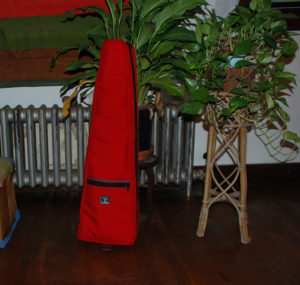 Custom Bags
When folks started seeing the cases on Etsy I was plunged into a world of musicians looking for a sturdy padded cloth case. Perhaps a Mbira, Banjo or a classic Martin Backpackers guitar case.
If you are looking for a case other than the standard Backyard Music case we can talk.
If your instrument is symmetrical I can probably make it from measurements you mail me from afar. But some instruments are just too hard to fit with only email conversations. We'll have to talk.