Swift Waters Artisans in downtown Willimantic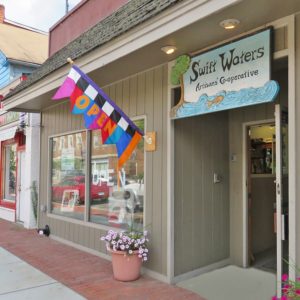 I love a coop. We share the trials, tribulations and successes of the business. Right now we are looking forward to some positive changes.
Swift Waters Cooperative updates its website. We have hired a web designer to construct a new website for us. Soon you will be able to shop on line as well as at the store
Swift Waters Cooperative has over 20 members and each of us is uniquely creative. Imagine the challenge our web designer has fitting us all into the boxes of online sales. She's been fantastic every step of the way.
As the pandemic took over our lives the members of Swift Waters Cooperative never considered closing the store. We shut our doors for March and April. By mid May we were reopening with shorter ours but all the safety measures in place.
Our Artists
Swift Waters Artisans Co-op is home to 20+ artists. We are printers, photographers, fine artists, knitters, potters, toy makers. And let's not forget textile artists. Look for my goods on the new site www.Swiftwaters.org.